Click Here for an Easy A: Social Media Manipulation 101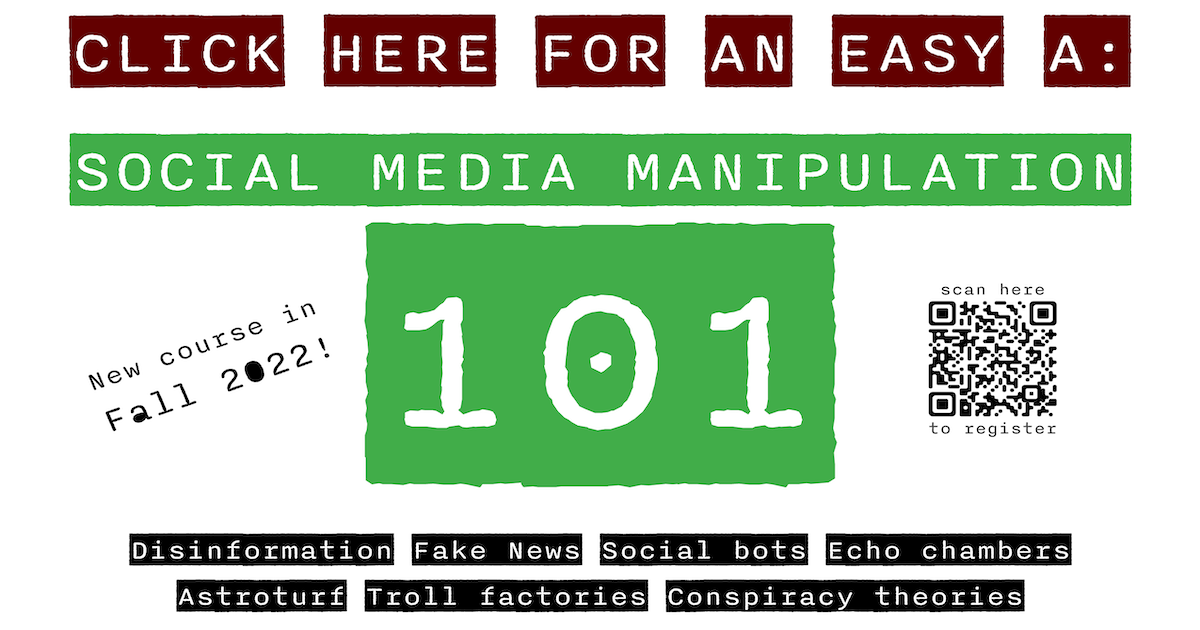 New course in Fall 2022!
MW, 4:45 – 6 PM, Fine Arts (FA) 015
Disinformation. Fake news. Social bots. Echo chambers. Astroturf. Troll factories. Conspiracy theories. We got our fill during recent elections and with COVID. Russia's invasion of Ukraine shows how misinformation on social media is exploited during wartime.
Are you curious about...
How lies spread on social media and why people believe them?
What makes technology vulnerable to manipulation?
How algorithms affect what you see?
How to stay ahead of biases, bots, and trolls?
How media literacy can help you navigate the modern information ecosystem?
Sign up for this exciting new course taught by a team of professors at the Observatory on Social Media, a leading research center that unites data scientists and journalists from the Media School and the Luddy School of Informatics, Computing, and Engineering. The Observatory studies the role of media and technology in society, and builds tools to analyze and counter disinformation and manipulation on social media. No prior knowledge is assumed or required for the course.
Students from all IUB majors are welcome! Here is how to enroll:
If you are a Media student, enroll in MSCH-C 201 (class # 33058): Click here for an easy A: Social Media Manipulation 101
If you are a Luddy student, enroll in INFO-T 100 (class # 33868): Topics in Informatics Technology: Social Media Manipulation 101
If you are an HLS student, enroll in SGIS-S 200 (class # 35751): Topics in Diplomatic Practice: Social Media Manipulation 101
All other students can enroll in either INFO-T 100 (class # 33868) or MSCH-C 201 (class # 33058)
Advisors: feel free to download course flyers for print or screen!
Weekly topics will include:
A short history of lying: propaganda, snake oil, and conspiracy theories
What changed when misinformation went from analog to digital
The varieties of digital misinformation
How our brains make us vulnerable to misinformation
The content of social media misinformation, including climate change, health, and elections
How viral news, engagement, echo chambers, and other social media mechanisms promote disinformation
The role and biases of ranking and recommendation algorithms
Social media abuse: bots, astroturf, flooding, trolls, deepfakes, and more
How to collect and analyze social media data
How to slow the spread of false and misleading information
What's coming in the future: AI, regulation, ethics, and the "metaverse"
Class format and grading:
3 credit hours
Interactive lectures supported by study guides
Weekly 10-question quizzes based on previous class content
Final exam
Everyone gets an A1
1. Keep in mind, this is a course on disinformation